Staff Grade, Associate Specialist & Specialty (SAS) Doctors & Dentists
We have launched a dedicated webpage for SAS doctors and dentists regarding COVID-19 - click here to visit 
The Staff, Associate Specialist and Specialty (SAS) Doctors and Dentists Development Programme was established in 2012 as a result of Scottish Government funding to develop SAS doctors and dentists working in NHS Scotland. Funding was initially on a three-year project basis but has now been added to NES's baseline funding.

There are approximately 1250 SAS grade doctors and dentists working in NHS Scotland. They make up about 25% of the senior medical workforce.

The programme aims to direct national funding to those SAS doctors and dentists whose clinical teams are seeking to develop new or improved clinical services, or to enhance their role within the clinical team, and where funding is not otherwise provided by the employing Health Board. If approved, funding is available to support costs for training, salary backfill, or completion of training to apply for a Certificate of Eligibility for Specialist Registration (CESR). In addition, funding has enabled the creation of a national network of Education Advisers (who are themselves SAS doctors or dentists) to support local SAS doctors and dentists, and to guide them (and their employing Health Boards) to make best use of this funding opportunity.

You can find further information on the SAS Development Programme in these useful documents: 
The Specialty Doctor contract in 2008 recognised the need for time for appraisal and CPD, and all Specialty contracts should have at least one session of Supporting Professional Activity (SPA) per week to allow time for this.
The GMC has produced CPD guidance for all doctors, emphasising the importance of planning for career progression, patient safety and revalidation.
The BMA has produced a charter for Scottish SAS, produced in conjunction with NHS Scotland and the Scottish Government, formally outlining the rights and responsibilities of SAS doctors and dentists. They also have a webpage on SAS payscales in Scotland.
*Podcast from Bernie Scott shared March 2022 with update on negotiations: https://bmascotland.home.blog/2022/03/23/update-on-contract-negotiations/

  Dr Lynne Meekison is Associate Postgraduate Dean and Operational Lead for the SAS Programme
Contact: Lynne.Meekison@nhs.scot
 SAS Managed Educational Network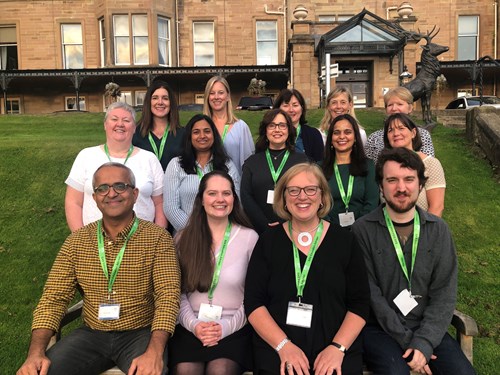 Please find below a list of our SAS Education Advisers by health board region.
Please contact SASDevelopment@nes.scot.nhs.uk if you cannot reach your EA, or if you are in NHS Greater Glasgow & Clyde where you will be assigned one of our three local EAs.
| | | |
| --- | --- | --- |
| Health Board Region | Education Adviser | Contact |
|  NHS Ayrshire & Arran |  Dr Mithun Barik (as of 3rd October 2022) |  Mithun.Barik@aapct.scot.nhs.uk |
|  NHS Borders |  Dr Pinky Yadav |  Pinky.Yadav@borders.scot.nhs.uk |
|  NHS Dumfries & Galloway |  Dr Shona Donaldson |  Shona.Donaldson2@nhs.scot |
|  NHS Fife |  Dr Gemma Falconer |  Gemma.Falconer@nhs.scot |
|  NHS Forth Valley |  Ms Jane Shearer |  Jane.Shearer@nhs.scot |
|  NHS Grampian, Orkney & Shetland |  Dr Graham Wilson |  Graham.Wilson3@nhs.scot |
|  NHS Greater Glasgow & Clyde |  Dr Gary Manson |  Gary.Manson@nhs.scot |
|  NHS Greater Glasgow & Clyde & Golden Jubilee |  Dr Linda Stephen |  Linda.Stephen@ggc.scot.nhs.uk |
|  NHS Greater Glasgow & Clyde |  Dr Mun Woo |  Mun.Woo@ggc.scot.nhs.uk |
|  NHS Highland & Western Isles |  Dr Kirsteen Wintour |  Kirsteen.Wintour@nhs.scot |
|  NHS Lanarkshire & State Hospital |  Dr Patricia Townsley |  Patricia.Townsley@nhs.scot |
|  NHS Lothian & NSS |  Dr Lynne Meekison |  Lynne.Meekison@nhslothian.scot.nhs.uk |
|  NHS Tayside |  Mrs Vinita Shekar |  Vinita.Shekar@nhs.scot |

Who can I contact for more information? 
Philip Smith, Senior SAS Programme Officer

Rozanne Suarez, Senior SAS Programme Officer

NHS Education for Scotland
1st Floor, 102 West Port
Edinburgh, EH3 9DN

(please note that NES staff are currently working from home – to contact please email)

NHS Education for Scotland
3rd Floor, 2 Central Quay, 89 Hydepark Street
Glasgow, G3 8BW

(please note that NES staff are currently working from home – to contact please email)

 0141 488 1690

 
This page was last updated on: 27.09.2022 at 10.51