Governance in Scotland
Governance, management and improvement of quality
A core function of the Scotland Deanery is to effect the quality management (QM) of postgraduate medical education and training (PGMET). This requirement is embedded in statute and the Deanery is a pivotal component of the GMC's Quality Improvement Framework (QIF)
Alongside the Deanery's responsibility for QM, the QIF requires Scotland's Local Education Providers (LEPs) to take responsibility for the Quality Control (QC) of the PGMET they provide, while the GMC Quality Assures the whole system to ensure that its standards for medical education and training are met.
These standards covering the continuum of undergraduate PGMET are clearly laid out in the GMCs Promoting excellence: standards for medical education & training, 2015  that replaces the previous separate standards for each domain, respectively Tomorrow's Doctors, 2009 & The Trainee Doctor, 2011.
The Medical Directorate's Quality workstream is responsible for the supporting infrastructure needed to meet these standards while the Scotland Deanery's LDDs, Regional Postgraduate Deans and Regional GP Directors against the responsibilities outlined above, have clear accountability in delivering against the GMC standards, as delegated by the Responsible Officer (Medical Director) in keeping with the overarching delegated responsibility model.
Organised around the Specialty Training Board Groupings, the Scotland Deanery QM-QI framework draws on their knowledge of the specialties they support and how training is organised across Scotland.
The Quality Workstream is led by a Postgraduate Dean, GP Director and General Manager overseeing teams of Quality Leads (QL), Quality Improvement Managers (QIMs) and Quality Improvement Administrators (QIAs) who carry out QM and QI activities for the Lead Dean/Director assigned to a particular Specialty Grouping.
The assigned LDD as the accountable officer directs and controls these activities through a Specialty Quality Management Group (sQMG).
sQMG overview
 The Quality Leads (QLs) who are Associate Postgraduate Deans (APGDs) (for hospital specialty training) or Assistant Directors (for GP training), in association with Quality Improvement Managers (QIMs) are responsible through their sQMG for managing the quality management processes for their specialties across Scotland.
The sQMG provides information to STBs regarding the quality of training in locations across Scotland within the specialty grouping for each STB and feeds information to DQMG. The sQMG will have input into every STB meeting as a standing agenda item. This involvement is led by the QL & QIM who shall both attend the STB. SQMGs meet every 2 months in the months either side of the Deanery Quality Management Group (DQMG) that also meets bi-monthly-see below.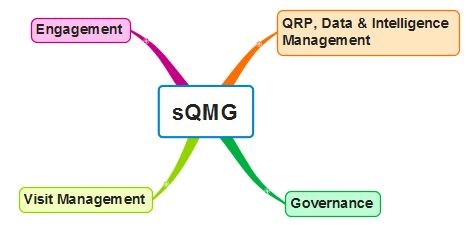 DQMG overview
The DQMG is the overarching group to which all eight sQMGs report. The DQMG is chaired by a Quality Workstream Lead Post Graduate Lead. Other roles of the DQMG include improvement of the efficiency & effectiveness of the performance of the Scotland Deanery QM-QI framework and engaging in continual improvement of the QM-QI process itself. Further to this, the DQMG has responsibility for work stream performance review and oversees formal annual review of performance of QM-QI activities in each Specialty Grouping, by requiring an Annual Report and formal Annual Review meetings for each Specialty Grouping.