Pre-CCT Trainer Workshop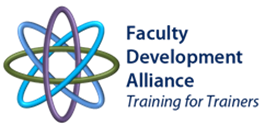 Target Audience
This one-day entry-level workshop is aimed at final year trainees ONLY (those within 1 year of CCT at the time of the course).
The course, which is designed to enable final-year trainees to be "trainer-ready" at CCT, is suitable for all those who are about to undertake an educational role and covers the fundamentals of both Clinical and Educational Supervision.  
Course Content
Topics covered within a small group setting include:

-  departmental induction
-  appraisal meetings
-  giving effective feedback
-  formative assessment
-  Supervisor's Report
Course Costs
There is a charge of £150 for this course. Please be aware that course costs are currently under review and may be liable to change.
Please note: We request that anyone attending these courses not be on call and ensure mobile phones & devices are switched off for the duration of the course   
Course Dates 
| | | | |
| --- | --- | --- | --- |
|   Date |  Time |  Venue |    Availability |
|  Wednesday 26th February, 2020 |  09:15 - 16:30 |  2 Central Quay, Glasgow |  FULL |
|  Thursday 19th March, 2020 |  09:15 - 16:30 |  Forest Grove House, Aberdeen |  Spaces |
To be eligible to apply for the Pre-CCT Trainer Workshop, you must be within 1 year of your CCT date at the time of the course.  Your eligibility to attend will be checked prior to the course.
Bookings: Places can be booked via the Portal - www.portal.scot.nhs.uk - search "FDA Pre-CCT Trainer Workshop"
Cancellations and Refunds: Please note that full automated refund can be generated from the Portal for cancellations up to 4 weeks prior to the course.  Within 4 weeks of the course date, refunds may be given in exceptional circumstances only or your place may be transferred to another course if there is availability.  Please note that if you have previously cancelled a course within 4 weeks of the original course date and are reallocated a place on another course by the FDA Team, which you then cancel, no refund will normally be offered.
If you have any queries, please email the FDA Admin Team at fda.admin@nes.scot.nhs.uk.