Medical Certification of Cause of Death (MCCD)
The Death Certification Review Service
Arrangements for death certification and registration in Scotland changed in 2015 with the introduction of the Death

Certification Review Service (DCRS).
The DCRS undertakes reviews of medical certificates of cause of death (MCCDs) to:
improve the accuracy of MCCDs
provide better quality information about causes of death so that health services can be better prepared for the future, and
ensure that the processes around death certification are robust and have appropriate safeguards in place.
Further information regarding the scrutiny system and process managed by the DCRS can be found on the Healthcare Improvement Scotland website.
Educational Resources and Publications:
Online Modules
NHS Education for Scotland worked with the DCRS to develop two online modules (approximately 20 minutes each)
Note: You will need to register for a free Turas account to access these modules. Your progress will be recorded and will be available to verify your course completion within your NHS Board area. The downloadable completion certificate at the end of the module is available for insertion into your personal learning record.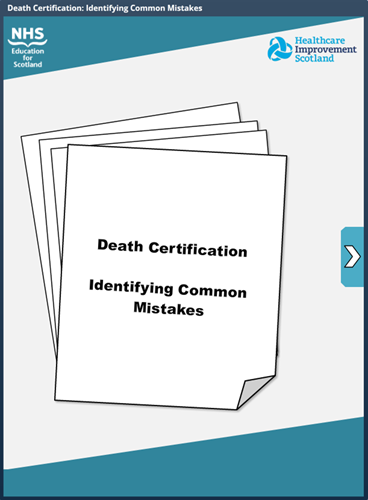 Module 1 Death Certification: Identifying Common Mistakes
This module is intended for doctors who are completing MCCDs in Scotland or doctors who have finished a training module on death certification and wish to confirm or improve their understanding of the subject.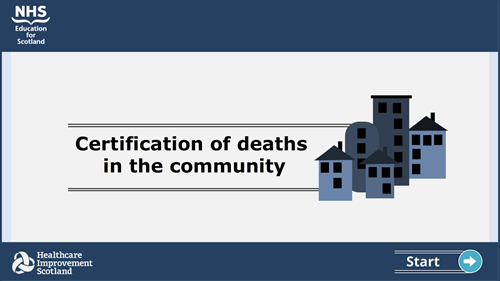 Module 2 Certification of Deaths in the Community
This module is primarily intended for doctors who are working in general practice in Scotland and may need to deal with sudden or expected deaths in the community.
Top Tips for Certifying Doctors
The DCRS has developed tips on correctly completing an MCCD, available at this link.
Publications
Guidance for Doctors Completing Medical Certificates of the Cause of Death (MCCD) and its Quality Assurance
Management of Deaths in the Community
GMC - New processes for death certification in Scotland: GMC guidance continues to apply
For more information on the educational resources available for professionals regarding completion of MCCDs please contact supportarounddeath@nes.scot.nhs.uk or janice.turner@nes.scot.nhs.uk