A flowchart for guiding Supervisors' conversations supporting IMGs can be found here.
Introduction
International Medical Graduates (IMGs) come from different countries, cultures, and medical education systems and may require additional support when they come to work in the NHS. While some generic training may be applicable, there is a need for individualised tailoring of support as their individual requirements will be different depending upon previous experience. For example, a doctor might have been born and raised in Scotland but chose to study medicine abroad. This doctor will not have issues with language and culture used outside work, but they will have difficulties and need time to adjust to workplace language and culture which might be very different to what they are used to. However, an IMG who was raised and studied medicine abroad will need to deal with the sociocultural adjustment to living in a new county, as well as learning NHS jargon, and workplace practices.
The information in these IMG support pages is based on findings and recommendations from a Qualitative Evidence Synthesis article recently published and available on http://doi.org/10.1111/medu.14708.
Softer Landing, Safer Care
To ensure appropriate integration into the workplace and safer patient care, IMGs require focused, local, and tailored support.  In collaboration with Directors of Medical Education, NES has developed the Softer Landing, Safer Care (SLSC) initiative which is supported by Health Board Medical Directors and Scottish Government. This is a framework for a 2-week shadowing period for IMGs at the start of their post so they have sufficient time to acclimatise to working in the NHS whilst an individualised action plan is agreed between them and their Educational Supervisor. In this time, this aim is that the trainee should be supernumerary to the rota, or otherwise without any lone on-call commitments.
SLSC Framework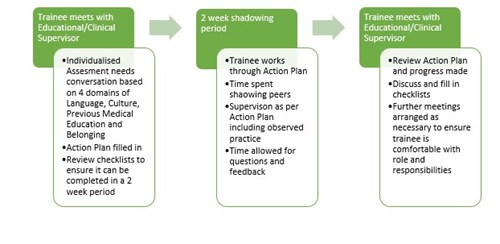 The aim of the SLSC initiative is that at the end of the programme, each IMG should have an individualised action plan put in place by:
Discussing the IMG doctor's basic human needs. Do they have accommodation? How do they get to work? Do they have a bank account? Do they have enough funds till the end of the month? Do they have family/children? Has the whole family immigrated? What about schooling and childcare? Support, guidance and signposting is needed for some.
Undertaking an individualised needs assessment by the Clinical/Educational supervisor based on the 4 domains of Language, Culture, Previous Medical Education, and Belonging. The aim is to develop an action plan with targets to achieve at the end of 2 weeks
Domain 
Suggested Action 
Language 

Attend communication skills training as part of the OASIS (Ongoing Active Support for IMGs in Scotland) Programme with practice under supervision in the work environment.

Guidance on appropriate avenues to explore for immersion in a variety of levels of English, e.g., Radio 4, Local Radio stations, newspapers, tabloids, etc.
Culture
Explore workplace culture abroad so far.  Discuss differences in and explore understanding of workplace culture e.g. referral pathways, flatter NHS hierarchy, the role of the senior charge nurse, the role of AHPs, etc.
Previous Medical Education

Explore training thus far, e.g. practical skills required to carry out the role. Is there a gap between IMG's skills and those expected of them within their role? How can it be addressed?

Do they know what an eportfolio is? How to access it? What an ARCP is? What WBA are? What is required for them to progress in training?
Belonging

Provide a welcoming environment. Encourage colleagues to include IMGs in activities. Arrange socials or discuss with social convenor if there is one.
3. Having another meeting at the end of 2 weeks to confirm progress. This will involve:
a. Completion of a Roles and Responsibilities Checklist
b. Completion of a Medical Education and Training Pathways Checklist
c. Completion of an NHS, Terminology and Referral Pathways Checklist