Faculty Development Alliance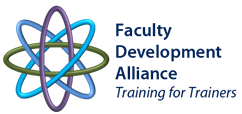 Background
In response to the changing (GMC) requirements for the training of trainers: NES has merged the SCOTS Management Group and the National Trainer Development Group (NTDG) into the Faculty Development Alliance (FDA).  The FDA has responsibility for the development and delivery of training for trainers in both primary and secondary care. 
Trainer Recognition and Approval
GP trainers are already recognised and approved by the GMC therefore there will be very little change to their training requirements.  However, the Recognition & Approval of trainers in secondary care is new and requires a new approach.
The FDA have developed entry-level resources, to support trainers and assist in the recognition process.  These include:
Once recognised or approved, trainers must provide evidence of their continuing professional development for their training role.
The FDA is producing a variety of educational opportunities each linked to an area(s) of the AoME Framework from which trainers can choose.   "Build on Your Skills" will help trainers access training and educational opportunities of interest to them or where they have an identified learning need.  Building on Your Skills will include courses, workshops, and e-learning.
Resources available include:
A new way to access your learning resources ...
The FDA IT Platform
Hosted on The Knowledge Network and linked to the NES Portal, the new FDA IT Platform will offer access to all FDA resources. Once registered, the platform will allow trainers to ...
Browse, search and book places on courses/workshops, recording details in an online training record
Launch online learning modules
View and print certificates from the training record
Upload certificates to SOAR
If you are currently waiting to attend one of our workshops, you will receive your certificate on the day. Once registered, you will also be able to access your certificate from your online training record. 
FDA courses / workshops will no longer be accessible directly from the NES Portal.
To register, visit www.fda.nes.scot.nhs.uk or for more information, contact the FDA team at fda.admin@nes.scot.nhs.uk