Wednesday, September 13, 2017
Shape of Palliative Medicine Conference November 2017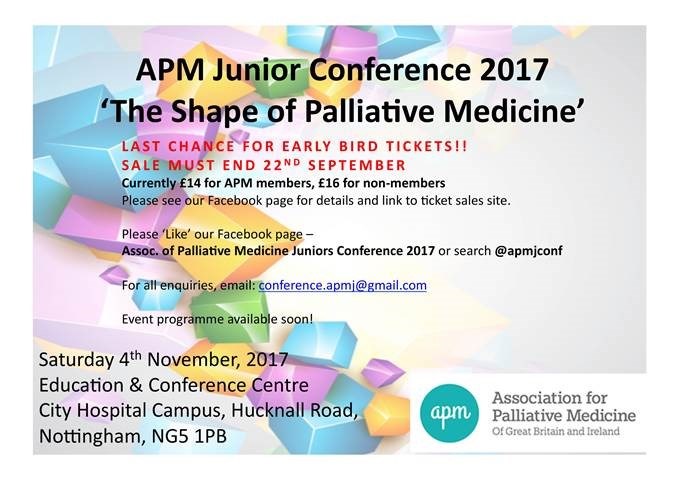 LAST CALL FOR EARLY-BIRD TICKETS!!!  SALE ENDS 22ND SEPTEMBER!
Please join us at our Palliative Medicine Conference aimed at medical students, junior doctors, GPs and anyone interested in a career in Palliative Medicine.
'The Shape of Palliative Medicine' in association with the APM (Association of Palliative Medicine)
taking place on Saturday 4th November from 0930 to 1645
at the Education and Conference Centre, City Hospital Campus, Hucknall Road, Nottingham, NG5 1PB.
Tickets will be going up in price soon, so catch them while you can!!!
Currently only £14 for APM members and £16 for non-members.
Tickets can be purchased from the following website:
http://onlinesales.admin.cam.ac.uk/conferences-and-events/public-health-primary-care/association-for-palliative-medicine/association-for-palliative-medicine-juniors-conference-2017
Please see our Facebook page https://www.facebook.com/apmjconf/ for more info.
Please direct all enquiries to conference.apmj@gmail.com
Return to all news